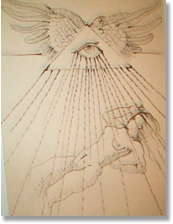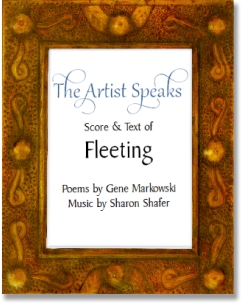 Click to Download PDF score
'The Artist Speaks' ~ a Recent Performance of The Markowski/Shafer Duo


Gene Markowski and Sharon Guertin Shafer have created a unique contemporary collaboration that is a fusion of music, poetry, and art. Shafer, a singer, pianist, composer, and professor emerita of music at Trinity Washington University, creates original music scores to accompany poetry written by Markowski who is professor of studio art at Trinity. Large drawings created by Professor Markowski are integrated into the presentation. Each drawing reflects the spirit of the music and poetry in a dramatic fashion while Dr. Shafer's stunning vocal and keyboard performances bring the poetry to life.

The duo has performed throughout the Washington, DC area with remarkable success since its founding in 2008 and looks forward to new bookings.
For further details and availability, please contact Eugene Markowski or Sharon Shafer.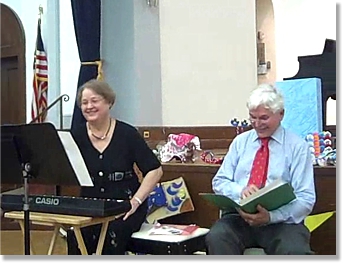 Click to download 100 MB WMF video
Eugene and Sharon performing at
Trinity Washington University
April 2011
Click above to download Video
From the Composer's Notes for The Artist Speaks
Gene Markowski and I have had some discussions recently about a quotation from the 19th century composer, Robert Schumann. He said:
People compose for many reasons: to become immortal; because the piano happens to be open; because they want to become millionaires; because they have looked into a pair of beautiful eyes; for no reason whatsoever.
Lately I have been composing because Gene Markowski writes stunning poetry. These works inspired me to write a set of 7 songs in 2010 and a set of 13 songs in 2011.
I use my training as a classically trained singer to embrace the genre of 'art song' as Douglas Seaton defines it in his book The Art song (1987): "The artistic principles that underlie the art song … rely on the general assumption that the text is composed before the music and that the music then responds to the text" (xv).
S0 my music becomes a response to as well as an expression of the meaning of Gene's words. In our performance we practice an innovative fusion of the visual arts, poetry, music, spoken word, and improvisation, expanding further the definition of art song. We include a reading of each poem, a brief description of the music and compositional techniques I used to set the poem, and a musical performance of each one.…


Sharon Guertin Shafer